D'Angelico Guitars
The first D'Angelico guitar was created in New York in 1932. From that time, only 1164 guitars were made until 1964. During this period, there were four models, the New Yorker, Excel, Style A and Style B. Of these, the New Yorker was by far the most popular.

In 1988 Mr. Jerry Berine signed a deal with Mr. Shino, a top Japanese guitar designer, and President of Vestax, to launch a D'Angelico re-issue of the New Yorker style guitar. The crystal clear sound and old world craftsmanship (hand-tooled) have been maintained to create once again one of the finest guitars the world has ever known.
The design of the D'Angelico New Yorker is based on achieving beautiful acoustic tones, without amplification, that are enriched while plugged in. The unique design allows the string vibration to interact with the wood bridge and hollow body-chamber in such a way that various tones are created within a single instrument.
If the violin is the queen of instruments, then the D'Angelico has the tone, feel and craftsmanship to be considered the KING. A piece of world history is now offered at a fraction of the cost of an original.
Since 1997 the small body style NYS-2, the sleeker, semi-hollow NYSS-3, and the thin body style NYL-5 models have been added to the lineup and use of the D'Angelico has been broadened worldwide. This one is in stock (click here)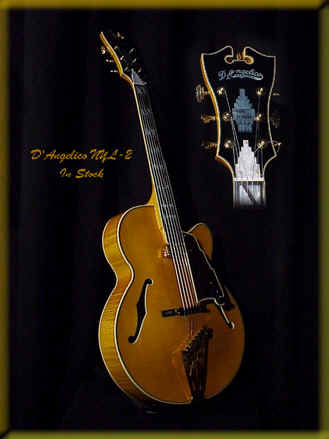 To check out the new D'Angelico Website, click here!