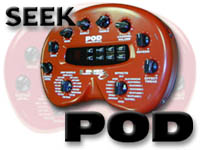 - NEW!!! The "must have" direct recording tool for guitarist, POD becomes a family. Introducing POD 2.0, POD Pro, Bass POD, Bass POD Pro and POD 2.0 Upgrade Kit for original POD owners. The POD Series brings great tone and unprecedented ease of use to direct recording and live applications. Now bass players can enjoy the instant tonal gratification to which thousands of POD owners worldwide have become addicted and the new POD Pro rack-mount package has enough connectivity for the most demanding recording professionals.
If you've ever been frustrated trying to get great guitar tones running direct, either live or in the studio, and you want a wide variety of classic and modern guitar tones with convenient to use effects built in - then POD delivers all of this and more (and at a bargain price ta boot!)
Visit the Line6 Website for more in depth info.
---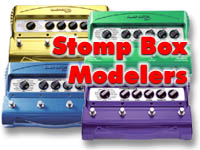 The Stomp Box Series - After they finished designing POD, Flextone, AX2, Spider, and Amp Farm, they weren't content to sit, rest, and read all the raves from reviewers and users. Not at Line 6; they were spending all our time thinking about what they could build to make a guitar player's life even more fun than it normally is. One day, it came to them: Why not design the first great sounding delay with models of all the most in demand, classic, hard to find delay sounds, make it programmable, and put it into a heavy duty, pro-quality, true bypass stompbox? So they did.

---

Flextone HD
(300w stereo - 150x2)
Rule the world with this stadium-ready, 300 Watt Stereo head

- just the thing for when deafening isn't quite enough. Includes a series/parallel switch-able effects loop, plus groovy built-in panel light so you see every control on a darkened stage.
---
BACK TO TOP