Digital Recording
Welcome to our newest page, featuring our hottest item... hard disc recorders and accessories for digital recording. This page will give you the skinny on all the new Roland Hard Disc Recorders, as well as some new products by Tascam.

---
ROLAND HARD DISK RECORDERS:
The VS-880 started it all, and now a few years later, everybody has access to a wide variety of home recording devices. Easy to use, easier to afford... hard to resist!


VS-840

Features:
Affordable, self-contained 8-track digital recording studio
12-channel digital mixing with 24 bands of digital EQ
64 "Virtual" tracks to try different ideas
Onboard Stereo digital multi-effects processor includes Reverb, Delay, Chorus, COSM Guitar Preamp and Speaker Simulator and much more New "EZ Routing" feature guides users step-by-step through basic operations like recording, mixing and bouncing tracks
Records all audio and mix information on low-cost, removable 100MB Zip™ disks Non-destructive audio editing: copy, move, exchange, insert, cut, and erase; 999 levels of Undo
Enhanced LCD includes helpful icons and operations graphics
Song Arrange, Tempo Maps and Mixer Scenes allow easy, flexible song creation, editing and
mix-down
Dedicated Guitar Input for recording guitar "direct"
The VS-840 Digital Studio Workstation breaks the digital recording price/performance barrier with powerful recording, editing, mixing and effects processing in a compact and affordable table-top workstation.
---

VS-880EX

The VS-880EX Digital Studio Workstation resets the standard for full-featured, compact digital recording workstations by offering stunning built-in effects, more inputs and outputs, more simultaneous recording tracks, more Virtual Tracks, a refined backlit display and a simplified user interface complete with acclaimed EZ Routing navigation.

Features:
Completely self-contained digital recording studio: fully digital recording/ editing, 16-channel automated mixing, expanded EQ capabilities
World-class built-in dual independent stereo multi-effects processing with 34 algorithms: Reverb, Delay, Chorus, COSM Guitar Amp Simulation, Voice Transformer, "Lo-Fi" mode, Mic Simulator, Vocoder and more (no optional effects board required)
128 Virtual Tracks of digital hard disk recording*; up to 8 tracks of simultaneous recording and playback**
New 20-bit A/D and D/A converters for pristine audio quality and increased dynamic range
Expanded Input section with 6 balanced TRS inputs and 2 digital inputs (Optical or Coax.)
Expanded Output section with 4 analog outputs and 4 digital outputs (Optical and Coax.)
Non-destructive audio editing: cut, copy, erase, exchange, move, insert, etc.; 999 levels of Undo for "no fear" recording and editing
Built-in SCSI port offers storage/interface with a variety of drives, computer peripherals, etc.
MIDI Time Code and MIDI Machine Control for sync
Audio CD recording and data backup with optional CD-R drive
* 128 Virtual Tracks = 64 V-Tracks x 2 Banks. Only one Bank can be used at a time, with Virtual Tracks freely copied between Banks.
** Number of simultaneous recording tracks is dependent upon speed of hard drive and recording mode used. 8 tracks can be simultaneously recorded at 44.1K using MT-1 Recording Mode and a 2.1GB hard drive.
---

VS-1680

Features:
16 tracks of hard disk audio recording; 256 "Virtual" tracks (16 tracks x 16 V-tracks) to freely record different ideas and arrangements
24-bit MT Pro Recording Mode for massive headroom and dynamic range -- a first in its class
26 channels of fully automated digital mixing
20-bit A/D, D/A converters for pristine sound
Huge 320 x 240 dot graphic LCD provides level meters, play list, EQ curves, EFX settings, waveforms, and more
2 optional 24-bit stereo multi-effects processors (VS8F-2) provide up to 8 channels of independent effects processing
New EZ Routing function allows users to create and save comprehensive mixer templates for instant recall
10 audio inputs: 2 balanced XLR-type inputs w/ phantom power, 6 balanced 1/4" inputs, and 1 stereo digital input (optical/coaxial)
12 audio outputs: 8 RCA-type outputs (Master L/R, Aux.A L/R, Aux.B L/R, Monitor L/R), and 2 stereo digital outputs (1 optical, 1 coaxial) plus Phones output
Direct audio CD recording and data backup using optional VS-CDR-16 CD Recorder
The VS-1680 Digital Studio Workstation represents the new definition of recording power: a 16-track, 24-bit recording, editing, mixing and effects processing system in a compact table-top workstation.
---

TASCAM Recording Products: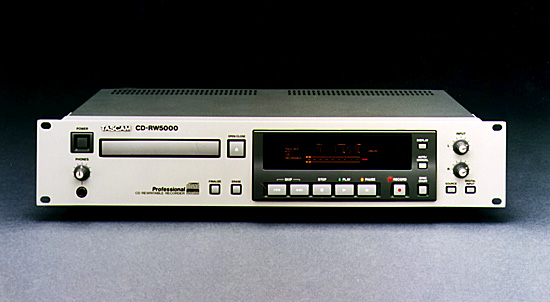 Tascam CDR5000

CD-R, CD-RW Applicable
Parallel Control
AES/EBU Digital Input
Balanced XLR Analog Input
Balanced XLR Analog Output
Sync Start (All or 1 Track)
Auto or Manual Track Increment
Erase (Disc or Track)
Repeat Play
2U Rackmountable
---
BACK TO TOP