Heritage Guitars
We've had requests from all over the place to show some new pictures of
brand new Heritage Guitars... so here they are!!!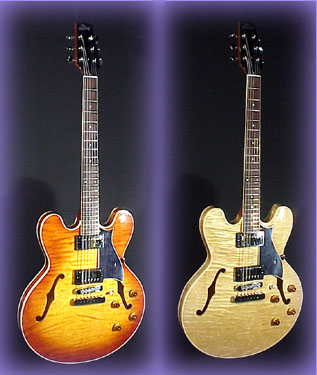 The New Heritage 535 Model. We have both of these beauties in Stock !!!
The Heritage Guitar company has history written all over it. The company was formed by original Gibson guitar makers, and based in the original factory where many great Gibson's were made --- in Kalamazoo, Michigan. Inheriting historically gifted guitar makers and a legendary guitar factory makes the Heritage company one of the most respected in the world.
They are responsible for making some of the finest guitars available in the traditional manner that Gibson is famous for. Their guitars represent the best value on the market today.
If a finely crafted, precision made, historically sound guitar is what you want... then start playing a Heritage. Critically acclaimed and artist endorsed.... a toast to the past - made for the future...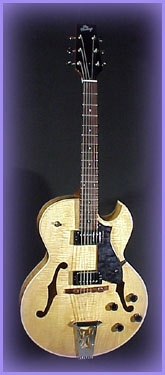 The brand new 575 Model. This one is waiting for you !!!

---
Heritage H-535 Review,
as published in the Feb 99 edition of
GUITAR MAGAZINE.
The good people at Guitar Magazine gave a very favorable review on this wonderful guitar,
and here are a few quotes from the review.
"By now, you probably know the Heritage story. In the mid 1980's, Gibson moved its headquarters from longtime stronghold Kalamazoo, MI to Nashville, TN. Several of Gibson's top craftsmen decided they didn't want to uproot their lives and follow the company down south, so they took over part of the old Gibson factory and set about building their own versions of some classic guitar designs. But rather than merely dwelling on past glory, Heritage builders took the opportunity to tweak those designs, forging their own identity in the process."
"A guitar, like any complex tool, can only be evaluated by how well it handles its intended mission. The Heritage H-535 is targeted at the traditional semi-hollow player, one who switches between country, blues, jazz, and rock and roll, and needs a guitar that can come along for the ride. With its slick neck and sweet but soaring tone, the versatile H-535 accomplishes that mission with ease." E.D. Menasche

---