Last, but Not Least!
Our product pages could have gone on indefinitely, so we decided to add this page to bring your attention to some of our other great products.


---
Other Guitar Related Products

Effect pedals have always been popular, but are even more in vogue right now, and we have lots to show you. BOSS effects have the seal of approval of countless working musicians. DOD is our most recent addition in the stomp box market, including the always popular Grunge Distortion pedal and some wild and freaky pedals like the Gonkulator Distortion pedal, which has to be heard to be believed! Our newest addition are some impressive pedals by DANELECTRO, all in vintage looks and sounds... these are real gems!

In terms of multi-effect units, the ZOOM series has by far become one of our most popular items. The ZOOM 505 and 506 guitar/bass effect series have sold out constantly. They are the biggest ticket around, no question! If you haven't tried a ZOOM product, then you really should, because whether you want to spend a couple hundred dollars, or whether you are looking for a top of the line effect unit, ZOOM has the tools to beam you aboard...
the starship of

Sabine tuners; Seymour Duncan, Fishman and LR Baggs pickup systems; Jim Dunlop products; Guitar parts; Tubes; We have the most popular items on the market.
We also wanted to make note of our always successful line of Guitar Straps and Gig Bags, all made by the Levy's Leather Company. You can't hold a guitar, or put it in a safe place without your Levy's product, and we proudly offer them to you here!

---
Keyboard Equipment
ROLAND home pianos have long been the leader, and we continue to display these wonderful products at our store. Digital excellence, perfect pitch, special MIDI features, and the touch and feel of a real grand piano --- Roland products are second to none. We also feature Roland portable keyboards.

Yamaha portable keyboards remain our most popular. With such great technological advances, Yamaha's keyboards have continued to improve, out-shining the competition, bringing wonderfully real sounds, tons of features and ease of use at remarkably low prices.

---
THE ROLAND VS-Hard Disk Recorders
One of the biggest break-through products of the 1990's, the VS-880 opened the doors to studio quality home recording at an affordable price. Now the market has exploded with the whole series of models, such as the VS-840, the VS-1680 and the new VS-880 EX.
---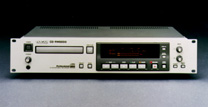 The brand NEW CDR5000 CD Recorder!!

Multi-Track Recorders have long been popular items at Murch Music, and now with the advent of affordable digital home recorders, they are more in demand than ever.

---



When you think... "Vocal Microphone"... you undoubtedly end up thinking.... SHURE! What store would be complete without a generous offering of Shure microphones? By far the best selling mics on the market.
We also offer Audio-Technica microphones...scanning many different price ranges.
The AT's are well worth a good long look!
CLICK HERE TO GO TO A.T's WEB SITE!!
And did we mention print music, singing machines and tapes, guitar accessories, and the best selection of guitar and bass strings available??? We'll leave it there for now!
---