Murch Products Page
• If you came here from a Jazz Newsgroup,
we invite you to check out the official Murch Music Website!

Warm and Beautiful... but TOUGH!
For Jazz lovers, is there really any other amp to consider, than a Polytone?! Since we started offering Polytone amps, people all over the world have been looking for
information and where to get them. In fact, we have sold these amps all over Canada, The US and even Europe!
The problem is, Polytone hasn't created an official website for all of the fanatics out there... so we've decided to make this Polytone area as official as possible! Pass the word on, that Polytone lovers don't have to be a secret society anymore!
---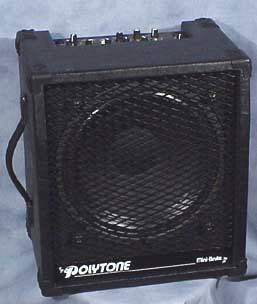 The Polytone Mini-Brute Amplifier


Polytone Mini-Brute:
This is the first Brute force amp to come in such a light weight package, and it is so easy
to operate... (even a "rock" guitar player could use it!)
Specs and Features:
110 watts RMS into 4 ohms
Dual Channel
Individual EQ controls, and Hammond 3 spring reverb
3 position Bright/Dark switch
Two inputs (high/low)
Pre-Amp output
Exterior Speaker Out (also used for headphone jack)
Heavy Duty 12" speaker
Durable and attractive covering
15.5"H x 14"W x 10"D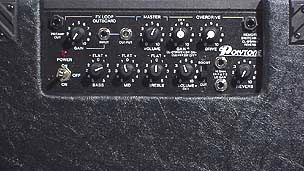 The Mini-Brute Controls
"" New Sonic Circuit on all Models '''
Another dimension for POLYTONE, Included in the MegaBrute, MegaBrain, MiniBrutes II and IV: a second channel that gives variety with program switching.
Position #1 More warmth than ever before !
Position #2 Edge with warmth AND bite
Position #3 Drive unbelievable crunch-power
---
The Brutes...

• Brute I
• Mega Brute
• Brute III
• Brute II
• Brute IV
Ahead of their time and now into the new millenium continuing to give players what they need;
the Brutes' redesigned control panel includes individual POTS, EFFECTS LOOP,
MASTER VOLUME, remote footswitch Jack, Preamp Signal Out, CH I Clean,
CH II "New Sonic Circuit"
110 watts RMS (Mega Brute 80 watts RMS)
2 channels switchable: CLEAN & SONIC CIRCUIT
Individual Bass, Mid, Treble, Volume controls
3 position BRITE switch Boost/Cut highs
Master Volume
Studio-type 3-Spring HAMMOND Reverb (Brutes II, IV & Mega Brute)
2 Inputs (High & Low)
EFFECTS LOOP OUTBOARD (Input/Output)
Preamp Main Signal Output Jack for POLYTONE Sidekick cabinets or other amps
Stereo Footswitch Jack for remote control of CLEAN/OVERDRIVE and REVERB
(footswitch optional)
Lower Rear Panel: Jacks for Exterior speaker and headphones
SPEAKER:
Mega Brute-heavy duty 8" speaker
Brute I/II-heavy duty 12" speaker
Brute III/IV-heavy duty 15" speaker
Tough Black Textured covering
Roadworthy Steel Mesh grill, heavy duty stackable corners
Approximate weight:
Mega Brute 19 lbs.
Brute I/II 24 lbs.
Brute III/IV 28 lbs.
Dimensions:
Mega Brute - 11 1/2"H x 13 1/4"W x 7 3/4"D
Brute I/II - 15 1/2"H x 14"W x 10 1/2"D
Brute III/IV - 18 1/2"H x 17"W x 10 1/2"D

---
POLYTONE MINI-BRAIN
At the request of viruoso guitarist JIMMY BRUNO - Polytone has brought back the MINI-BRAIN.
This small, lightweight package was first introduced by POLYTONE 20 years ago. Now it's back better than ever !
120w to 260w RMS
Mini-Brain Analog System - very warm
All New 'Harmonics' network
Exclusive SONIC CIRCUIT
This amp features a 20 db boost/cut control and the exclusive Polytone 'Harmonics' network. It also has a 3 position Brite/Dark switch as on all Polytone amps. Effects Loop with volume control, balanced line out to other amps, 2 spkr. outputs, 2 instrument inputs and a headphone jack.
Dimensions -- 2 1/2" high x 9 3/4" w x 9" deep -- ships complete with a carrying bag and detachable AC cord.
The perfect companion to your Mini-Brain is the new ACOUSTIC REFLECTIONS cabinets -- powered at 300 watts or unpowered for 140 watts RMS - also new from the "Warm Amp Company" ---- POLYTONE !!

"MADE BY MUSICIANS FOR MUSICIANS".
---
Mini-Brute V
Extreme versatility in a small lightweight package. Acoustic Reflections - a stereo-like effect.
This amp is perfect for someone that has a nice acoustic guitar and would like the versatility of a switchable tweeter to reproduce those high frequencies !!
140 watts RMS
2 separate independent channels:
Ch. 1 features the "Edge"
MASTER VOLUME
2 Inputs per channel - Hi & Lo Gain
Boost/Cut Switch per channel
3 spring Hammond Reverb
3 position switch for reverb for Ch. 1, Ch 2 or both
Normal/Combine and Horn on/off switches
Jacks for Preamp Signal Out and Stereo Footswitch
Remote control of Reverb and "EDGE"
Lower rear panel jacks for Ext. Spkr & headphone
Available in either 12" or 15" spkr with a switchable horn !!
---
Manuals for Amps
We have manuals for the recent models available on our site - please click here
---
Stay Tuned For More.... BACK TO THE TOP OF PAGE